Five Star Cleaning has the equipment, expertise and experience to provide high quality pressure cleaning services to clients. We can carry out pressure cleaning either as a once-off or as part of a regular maintenance and cleaning contract.
We use both mobile power washing machines and high pressure steam cleaning machines to remove even the most stubborn dirt and grime from any surface. The choice will depend on factors such as the nature of your premises and business, the material to be removed, access considerations, and more.
Mobile power washing pressure cleaning
Our units allow us to wash areas up to 500 feet from where we set up the machine.
Units generate their own power so no need for electrical socket nearby.
Hydraulic hoses can go round corners or through windows and doors, to reach all areas.
Two skilled operatives on hand at all times to ensure top results.
High pressure steam cleaning
100° temperature sanitises and sterilises surfaces.
Uses less water.
Prevents pools of water forming – so suitable for indoor areas.
More effective on older stains and grime.
Pressure cleaning solutions for you
We can provide both types of pressure cleaning on either an hourly or daily basis, providing the most cost-effective solution for you. It can be even more cost-effective to enter into a contract for regular pressure cleaning services. Either way, we guarantee client satisfaction at all times.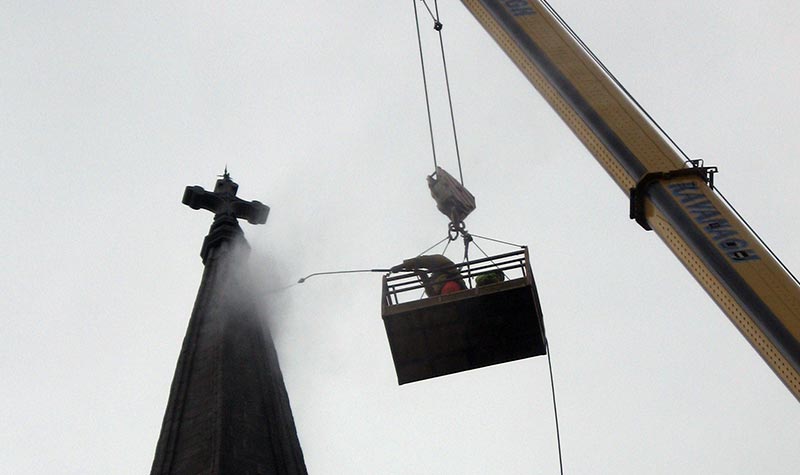 ---
Contact us for pressure cleaning
For all your pressure cleaning needs, simply contact us to arrange a no-obligation consultation and quotation. We can provide a once-off clean, or arrange a contract for regular cleaning. We look forward to hearing from you!