When you're involved in the food industry, cleanliness is of paramount importance. Food safety is a major concern, and you must comply with extensive legislation with at all times. Five Star Cleaning is here to help you do so, with our food plant sanitation services.
Our food plant sanitation services are suitable for:
Production lines.
Packing areas.
Storage areas.
Cooking areas.
Kitchen areas.
Your food plant sanitation plan
We bring the same trademark diligence and expertise to food plant sanitation as we do to all our other cleaning services. Each new contract begins with a site visit and thorough inspection of the facility, to allow us to draw up a bespoke food plant sanitation plan.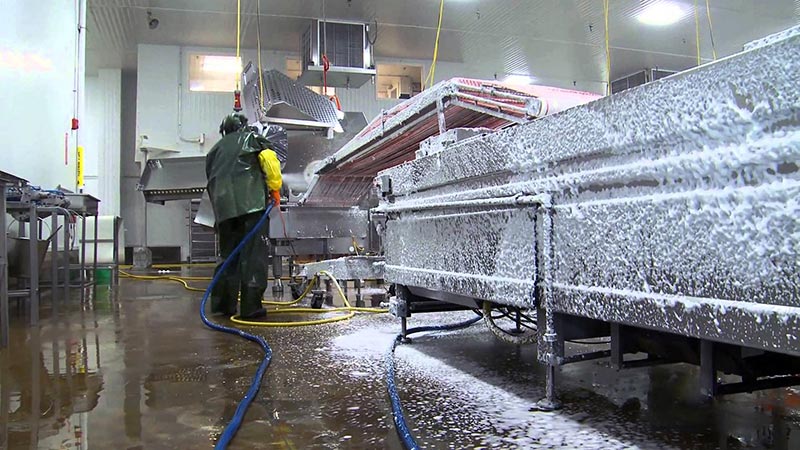 We have invested heavily in technology to enable us to determine the most appropriate method of cleaning, and cleaning materials to be used. Furthermore, our staff are all trained in food handling and hygiene, and undergo regular additional training. They work tirelessly to ensure optimal cleanliness and extreme precision. This helps us guarantee client satisfaction in all we do.
Other food plant sanitation services
Other services we provide can also be a benefit when it comes to your food plant sanitation needs.
These include confined space cleaning for cleaning the interiors of storage tanks and bins, and out of reach cleaning for cleaning ceilings, upper shelves of storage areas, warehouses, etc.
Simply contact us at any stage to learn more about what our food plant sanitation services can deliver for you.
---
Contact us for food plant sanitation
Food plant sanitation has never been more important. When you work with us you will be able to focus your resources on more profitable business aspects. Whether you are looking for sanitation solutions or other industrial cleaning services, we can help.
Just contact us at any time to learn more. We look forward to hearing from you.