Five Star Cleaning provides full silo maintenance services, either in conjunction with regular silo cleaning or as a stand-alone procedure.
If our team members are cleaning your silo, they conduct an inspection on its condition as they go. If you call us in for an inspection on an empty silo, we perform the same thorough checks. We then provide an inspection report before deciding upon a maintenance plan of action.
Silo maintenance inspection reports
Our silo maintenance inspection reports detail many factors, including:
External condition of silo. Is it clean or dirty, and in need of steam cleaning or painting?
Internal condition of silo. Again – clean or dirty, in need of steam cleaning or painting?
Are access ladders, safety handrails, and blow lines fixing safe and secure?
Condition of access dome. Is there flaking paint or mould growth, or are insect tracks present?
Condition of filter socks – are they clean, dirty, wet, or torn?
Silo maintenance action plan
Once we identify all issues with a silo, we then draw up a maintenance action plan. Our operatives are highly skilled in all aspects of silo maintenance and can carry out any necessary work.
This can include:
External painting with long-lasting paint to protect against the elements.
Internal painting with food grade paint, to protect silo content and help minimise future residue build-up.
Repairs or replacement of safety rails, ladders, etc.
Any other necessary work.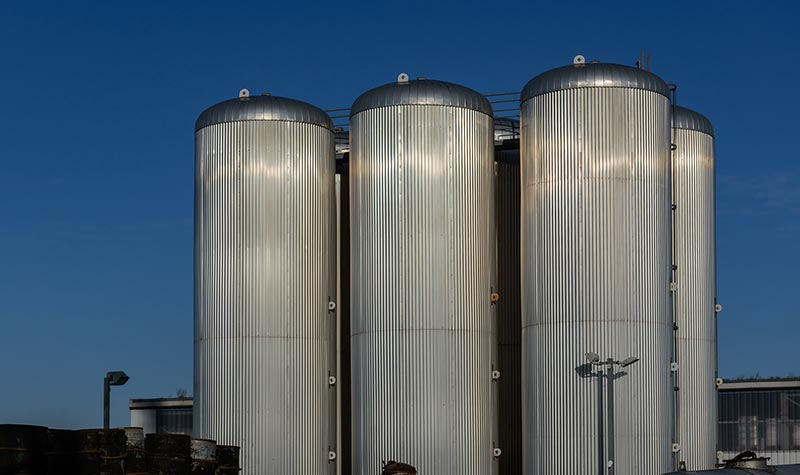 Silo maintenance contract agreements
As part of our commitment to clients, we can enter into contracts for regular silo maintenance inspections and actions.
Each contract is bespoke to the client depending upon their particular needs. For example, flour silos at a bakery may need inspection and maintenance more regularly than grain silos at a brewery. We will consider all such particulars before drawing up a contract agreement for you.
---
Contact us for silo maintenance
For all your flour silo maintenance needs, simply contact us to arrange a no-obligation consultation and quotation. We look forward to hearing from you!