Five Star Cleaning provides efficient and professional grain extraction services to commercial clients involved in grain storage and processing.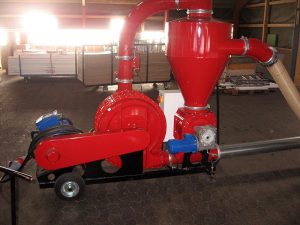 We have specialist equipment that can remove up to 40 tonnes of grain per hour from any silo, bin, or storage bay. This allows for rapid emptying of any containment space. It is one of the most cost-effective methods of grain extraction available to your company anywhere.
Typical Applications of our Grain Extraction Service
Where grain (barley/wheat/oats/soybeans/roast barley) or any other product is accidentally put in the wrong silo or other storage area.
If the bottom screw orger breaks in a silo, preventing removal of grain. Our machinery can suck the grain out and and at the same time blow it back to another line, so it can still go into production.
To deal with spills in intake pits.
To transfer product directly from a silo to an articulated trailer, therefore ruling out any contamination.
Benefits of our Grain Extraction equipment
Highly mobile and efficient.
Extremely cost effective.
Runs from an independent power source, so on surge in electricity costs to our customers.
Highly accurate – can remove grain from just one specific area of a store, as deemed necessary.
---
Contact us for grain extraction
For all your grain extraction needs, simply contact us to arrange a no-obligation consultation and quotation. We can provide a once-off service, or arrange a contract for regular services. We look forward to hearing from you!